1880 Bombones De Turrón (Nougat Bonbons) Net.Wt 165g
1880 Bombones De Turrón (Nougat Bonbons) - A Taste of Tradition!
Indulge in the rich and delightful flavors of Spain with 1880 Bombones De Turrón, also known as Nougat Bonbons. Crafted with passion and expertise, these exquisite treats are a testament to Spain's centuries-old nougat-making tradition.
Key Features:
Net Weight: 165g
Authentic Spanish Delicacy
Perfect for Gifting or Self-Indulgence
Description: 1880 Bombones De Turrón are a true embodiment of Spanish culinary excellence. Made by 1880, a renowned Spanish brand with a legacy of producing premium confections, these bonbons are a delicious blend of nougat and chocolate.
Each box contains 165g of pure delight. As you unwrap these bonbons, you'll be greeted by the inviting aroma of toasted almonds and sweet honey. The nougat's texture is perfectly balanced - not too hard, not too soft - providing a satisfying chew with every bite.
But it doesn't stop there! Encased in a thin layer of high-quality Spanish chocolate, these bonbons offer a harmonious blend of creamy sweetness and nutty richness. The chocolate coating adds an extra layer of luxury, making them irresistible to chocolate lovers.
These Bombones De Turrón are more than just sweets; they are a piece of Spanish culture and tradition. Whether you're looking for a delightful treat for yourself or a unique gift for someone special, these bonbons are a delightful choice. They come beautifully packaged, making them ideal for any occasion.
Indulge in the flavors of Spain with our 1880 Bombones De Turrón. Order now and savor the taste of tradition in every bite. Elevate your snacking experience with these Spanish delicacies that have stood the test of time.
Don't miss out on this opportunity to experience the essence of Spanish nougat craftsmanship. Order your 1880 Bombones De Turrón today and transport your taste buds to the heart of Spain. ¡Buen provecho! (Enjoy your meal!)
View full details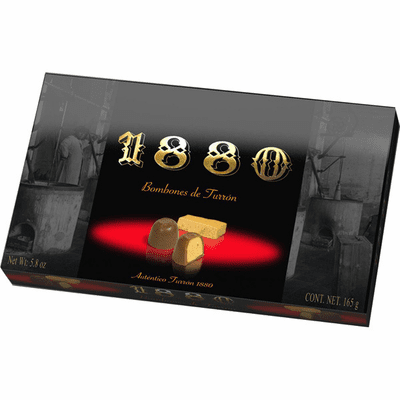 1880 Bombones De Turrón (Nougat Bonbons) Net.Wt 165g