Sku:

SP85210

Vendor: 1880
1880 Bandeja De Dulces de Navidad (Christmas Sweets Selection) Net.Wt 270 g
Spanish 1880 Bandeja De Dulces de Navidad (Christmas Sweets Selection) 270 gr - A Festive Delight!
Get ready to elevate your holiday celebrations with the exquisite Spanish 1880 Bandeja De Dulces de Navidad, a carefully curated assortment of Christmas sweets that will transport your taste buds to the heart of Spain's holiday traditions.
Product Features:
Authentic Spanish Flavors: Indulge in the rich and time-honored flavors of Spain with this delightful Christmas sweets selection. From the moment you open the package, you'll be greeted by the irresistible aroma of Spanish holiday confections.

Handpicked Assortment: 1880 Bandeja De Dulces de Navidad is thoughtfully crafted, bringing together a harmonious mix of traditional Spanish sweets. From crunchy almond turrón to creamy marzipan, each sweet is a testament to the artistry and craftsmanship that defines Spanish confectionery.

Premium Quality: 1880 takes pride in sourcing only the finest ingredients to create these delectable treats. You can taste the dedication and expertise in every bite, making this assortment a perfect addition to your holiday table or a thoughtful gift for friends and family.

Elegant Packaging: The 1880 Bandeja De Dulces de Navidad comes in a beautifully designed box that not only preserves the freshness of the sweets but also makes it an attractive centerpiece for your holiday celebrations.

Net.Wt 270 g: This generous package contains 270 grams of Christmas sweets, ensuring there's enough to share and savor throughout the festive season.
Product Contents:
Almond Turrón: Experience the delightful crunch of premium almonds combined with sweet honey, a traditional Spanish treat that embodies the spirit of Christmas.

Marzipan: Our marzipan is a creamy and heavenly almond confection, shaped into festive figures and bursting with almond flavor.

Polvorones: These crumbly, melt-in-your-mouth shortbread cookies are a classic holiday treat in Spain, known for their irresistible texture and taste.

Chocolate Bonbons: Indulge in the rich, velvety chocolate filling inside these bite-sized bonbons, a true chocolate lover's dream.

Fruit Jelly Sweets: Taste the burst of fruity flavors in every chewy bite, adding a sweet and tangy contrast to the other selections.
Don't miss out on the opportunity to infuse your holiday season with the magic of Spanish traditions. 1880 Bandeja De Dulces de Navidad is a delightful way to savor the spirit of Christmas, Spanish style. Order yours today and make this holiday season one to remember with these irresistible Christmas sweets!
¡Celebra la Navidad con el sabor auténtico de España! (Celebrate Christmas with the authentic flavor of Spain!)
View full details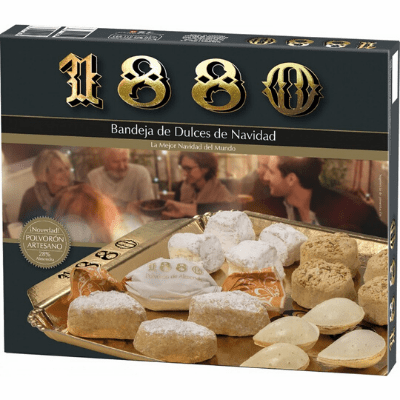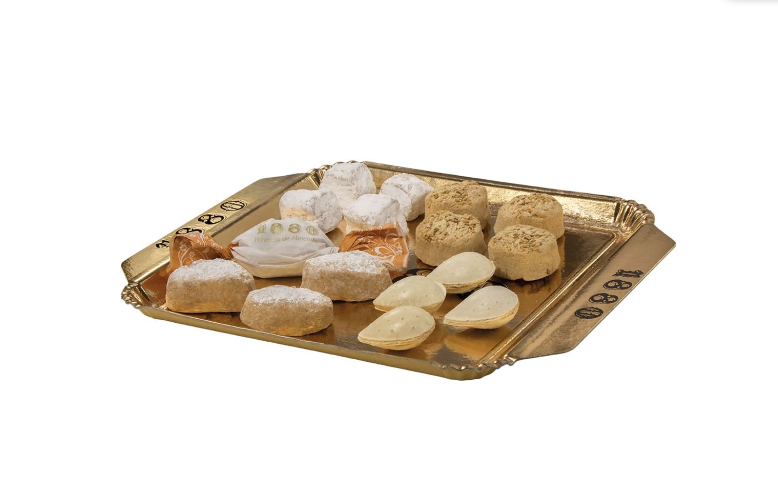 1880 Bandeja De Dulces de Navidad (Christmas Sweets Selection) Net.Wt 270 g