Sku:

AR9183

Vendor: Amigo Foods Store
151 Chimichurri by Antonio Flores 11 oz.
Argentinean 151 Chimichurri by Antonio Flores – A Flavorful Fiesta in Every Bite!
Elevate your culinary journey with the exquisite taste of Antonio Flores 151 Chimichurri, a delectable sauce that captures the essence of Argentina's vibrant and bold flavors. Crafted with precision and passion, this 11 oz. bottle of Chimichurri 151 is your ticket to an authentic South American gastronomic experience.
Discover the Essence of Argentina: Argentina is renowned for its rich culinary heritage, and chimichurri is one of its most iconic culinary treasures. Antonio Flores has carefully perfected the recipe, ensuring that every bottle of Chimichurri 151 encapsulates the essence of Argentina's vibrant food culture.
Premium Quality Ingredients: The secret blend of fresh parsley, garlic, red pepper flakes, oregano, and the highest quality olive oil come together to form a harmonious symphony of flavors that will tantalize your taste buds.
Versatile and Mouthwatering: The versatility of Antonio Flores 151 Chimichurri knows no bounds. Whether you're grilling succulent steaks, marinating tender chicken, roasting vegetables, or even using it as a dipping sauce, this chimichurri sauce adds a burst of flavor to every dish. Its zesty, herbaceous notes complement a wide range of culinary creations.
Crafted with Love: Antonio Flores takes pride in every bottle of Chimichurri 151. This family recipe, passed down through generations, is a labor of love that brings a piece of Argentina straight to your table. With every taste, you'll experience the passion and dedication that go into creating this culinary masterpiece.
Savor the Flavor Today: Make Antonio Flores 151 Chimichurri a staple in your kitchen and embark on a mouthwatering journey to Argentina with every meal. Elevate your grilling game, add excitement to your salads, or simply use it as a marinade – the possibilities are endless!
Bring home the taste of Argentina today with the Antonio Flores 151 chimichurri. Don't miss out on this extraordinary flavor experience. Order your 11 oz. bottle now and discover why Antonio Flores is the trusted choice for chimichurri lovers worldwide. Add it to your cart, and let the flavor fiesta begin!
View full details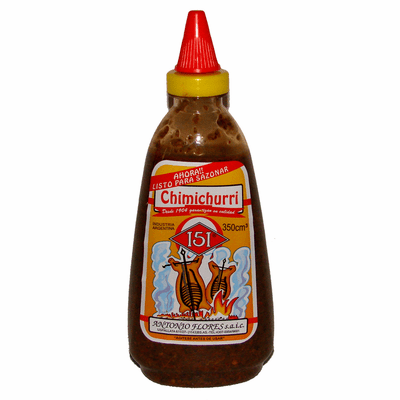 151 Chimichurri by Antonio Flores 11 oz.