Other Great Sites About Brazil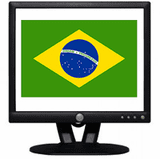 The Brazilian websites listed below are for the benefit of our Brazilian visitors and those interested in the Brazilian culture. Amigofoods.com does not control their content.
---
Brazilian Bathing Suits
Berrydog.com The #1 source for Brazilian Bikinis, Thong Bikinis, Sheer Swimwear & Sexy Swimsuits & One Piece Bathing Suits & Bikini Accessories. Brazilian Culture
Maria-Brazil.org The first Web site dedicated to Brazilian popular culture. Brazilian Food & Drink Manufacturers
Cafe Pilao Cafe Pilao is the preferred coffee of Brazilians all over the world. Pilao coffee is one of our best sellers! Garoto Brazil's most popular manufacturer of chocolates. Including their famous Garoto Bombons Sortidos & Serenata De Amor. Guarana Antarctica Without a doubt Brazil's Favorite Soft Drink. Yoki Alimentos Brazil's largest producer of ready mixes, corn flours, manioc flours, wheat flours, cereals, snacks, cake mixtures and other desserts. Brazilian Jewelry & Gifts
Novica.com Home decor, jewelry & gifts by talented Brazilian artisans. Brazilian Magazine
Veja.com The most important weekly magazine in Brasil. Brazilian Recipes
CookBrazil.com This site offers a wide varirty of authentic Brazilian recipes. Brazilian Travel
Brazilmax.com The Hip Travel Guide To Brazil Brazil: Online Guide to Brazil, Brazilian vacations, packages, hotels, tours, night life, Beach life, Carnivals. Brol.com A great website to book travel to Brazil. You can find tickets, vacation tours, Amazon and Panatanal Ecotourism, hotels, cars and more. Learn Portuguese
RosettaStone.com Learn How To Speak Portuguese (the official language of Brazil) With Rosetta Stone. sonia-portuguese.com This site aims to help anyone who is learning Portuguese as a foreign language.
---
How to Exchange links with Amigofoods.com - If you want to exchange links with us, please provide a link to our home page from your links page and email us the exact url of the page on which you have added our link along with the title, description and url of your site. You can email us at linkexchange@amigofoods.com. We will add your link as soon as we confirm our link on your site, the quality of the link provided and its relevance to our content. To add our link to your site and your link to our site, please use the following information - URL : http://www.amigofoods.com
Title : Latin Food Store On The Internet
Desc : Amigofoods.com is a nationwide Latino grocery store delivering imported food products from Brazil and all across South America, Central America, the Carribean and Spain. Delivery via UPS right to your door.
---