Sku:
Vendor: Amigo Foods Store
Free Bauducco Mini Panettone
Experience the joy of Brazil's festive season with Bauducco's Mini Panettone. A beloved treat cherished by generations, this compact version of the classic Brazilian holiday cake brings the vibrant soul of Brazil into each bite.
Key Features:
Authentic Brazilian Flair: This mini panettone is infused with the unique flavors and traditions of Brazil, combining plump raisins, candied fruits, and a soft, airy bread.

Snack-sized Delight: The compact design makes it the ideal snack for any occasion - whether you're on a beach in Rio, on a journey through the Amazon, or simply relaxing at home.

Bauducco Excellence: With a legacy of baking expertise, Bauducco guarantees an unrivaled product, ensuring that every mini panettone is a piece of art.

Versatility at Its Best: Beyond its snackable size, the Bauducco Mini Panettone serves as a base for various dessert creations, from tropical trifle layers to toasted delights.
Serving Suggestion: Enhance the tropical Brazilian vibes by serving the mini panettone slightly warmed, accompanied by a cup of traditional Brazilian coffee or a splash of cachaça.
About Bauducco: Rooted in Brazil, Bauducco has been warming hearts with its extensive array of baked goods for decades. Their panettones, a staple during Brazilian festivities, resonate with the rhythm, warmth, and spirit of the country, making every occasion special.
---
Dive into the heart of Brazil's celebratory Christmas spirit with Bauducco's Mini Panettone. A taste that dances on your palate, it's more than just a treat—it's a tradition!
Bauducco Panettone
 is a popular Brazilian cake made with candied fruits and raisins. These Mini-Panettones are specially imported from Brazil, Bauducco panettones are a holiday tradition but can be enjoyed all year long!
View full details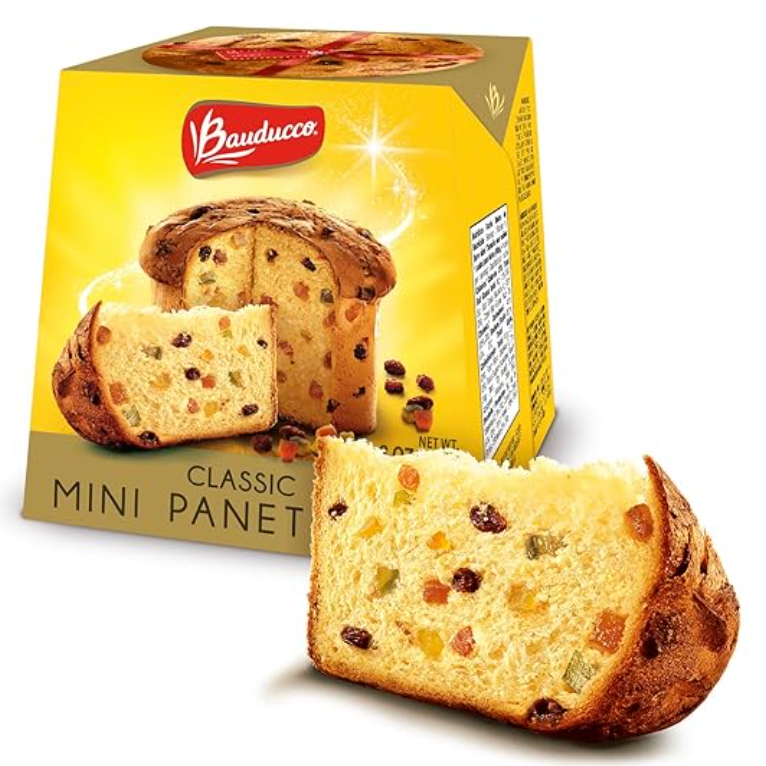 Free Bauducco Mini Panettone